Independent Living
At Copley, we believe caring for our community goes beyond medicine. It's about caring for you in your retirement. 

That's why we offer two independent living communities: Copley Terrace in Morrisville, Vt. and Copley Woodlands in Stowe, Vt. Both offer a wonderful place to continue your independence with the comfort and security you need as you age.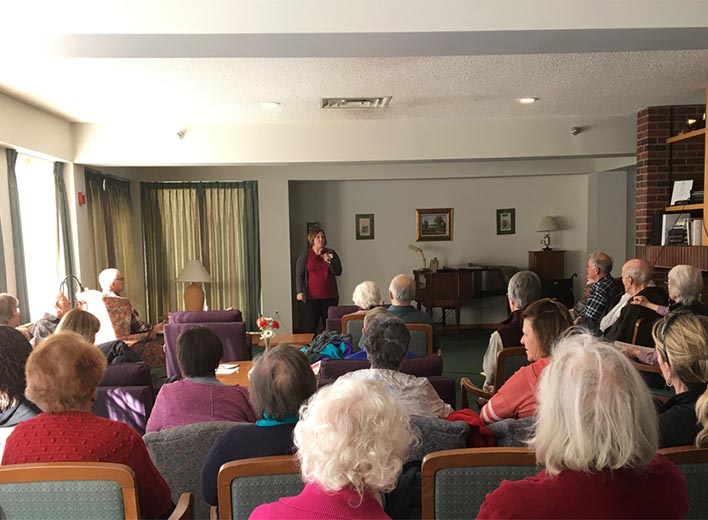 Contact Information
Copley Terrace 802.888.7896
Copley Woodlands 802.253.7200
Mon – Fri 8:00 am – 4:00 pm
Location:
Copley Woodlands
125 Thomas Lane
Stowe, VT 05672
Copley Terrace
579 Washington Hwy # 314
Morristown, VT 05661
Copley Woodlands
Copley Woodlands is a 40-unit independent living retirement community.

Copley Woodlands is in the heart of the quintessential Vermont resort town of Stowe, making it a unique community that promotes continued independence with comfort in mind.
Built in 1998, and designed by the internationally-known architectural firm Burley Partnership, the Woodlands takes advantage of Stowe's year-round events and activities and outdoor recreation ranging from biking and hiking to golfing and kayaking, skiing, and snowshoeing.
Our convenient location is close to Stowe's 5.5-mile scenic recreation path. And is within walking distance to the library, post office, restaurants, galleries, and shops.
Our spacious condominiums average 1,100 square feet, with an option to lease or own. And pets are welcome!
Copley Woodlands Services & Amenities include:
Professional on-site management
Resident Services Coordination
One meal per day in the dining room
Exercise class
Activities (including social, cultural, and recreational events)
Utilities (including heat, water, sewer, and electricity)
General property, fire, and liability insurance
On-site, 24-hour staff and secure building
Lifeline Personal Response System
Building maintenance and repairs (including custodial service for all common areas)
Landscaping and snow removal
Regularly scheduled local transportation
"I love living at Copley Woodlands. The apartments are good size with ample storage. One good meal a day is included (and another is possible). It is within walking distance to town and all of the staff are exceptionally nice and helpful. Medical help is always available with Lifeline."
– Anne Winter
To learn more or schedule a tour, give us a call or visit the Copley Woodlands website.
Copley Terrace
Copley Terrace is a 38-unit independent living retirement community for low-income elderly and the young mobility-impaired.

Built in 1983, Copley Terrace is a HUD-subsidized housing facility, located in the friendly town of Morrisville just down the street from Copley Hospital, Lamoille Health Partners, and the Manor nursing home. It is also a regular stop on the GMTA bus route, making shopping very convenient.
Copley Terrace Services & Activities include:
Blood pressure screenings
Foot clinics
On-site beauty salon
Meals on Wheels (M-F)
Monthly birthday celebrations
Monthly Food Bank delivery of commodities to those residents who qualify
Bingo
Building maintenance and repairs (including custodial service for all common areas)
Utilities (including heat, water, sewer, electricity)
Secure Building
Residential Services coordination
Transportation
If you're interested in learning more or would like to schedule a tour, please give us a call.
*Copley Terrace does not discriminate on the basis of handicapped status in the admission and access to, or treatment or employment in, its federally assisted programs and activities.