Gynecology + Obstetrics
The Women's Center at Copley Hospital provides care and support from the first discussion of contraception through menopause and beyond.

At the Women's Center, our team of midwives, physician, dedicated nurses, medical assistants and administrative staff work together with one common objective: providing great care for patients in our community.
Our certified nurse midwives take time with patients to understand their health challenges and goals. Through listening to patients and discussing options for care, our midwives create plans to foster good health, not only during pregnancy, but across a patient's lifespan, including care for contraception, gynecological conditions, and menopause.
OB/GYN, Dr. Leight is involved in all aspects of care, handling higher risk pregnancies, cesareans, and gynecological care. She work seamlessly with our midwives to give patients the right level of care at the right time.
For patients birthing at Copley Hospital's Birthing Center, the midwives and Dr. Leight offer a fully integrated experience based on the family's plan and the safest, most efficient clinical care for the patient and child. From the first visit confirming pregnancy to the final visit after birth, the staff at The Women's Center puts you and your family at the center of care.
Our nursing staff brings decades of experience in gynecological and family care to everything they do. Available by phone or in the office, they are essential members of our clinical team.
Gynecology and Obstetrics Services provided include:
Routine gynecologic care, annual exams and screenings
Gynecologic conditions and diseases
Problem gynecologic care, including:
Abnormal bleeding, painful sex, abnormal Pap tests, fibroid tumors, ovarian cysts, infections
Contraceptive options
Pregnancy from pre-conception counseling to postpartum care
Comprehensive menopause care
Minimally invasive (laparoscopic) surgeries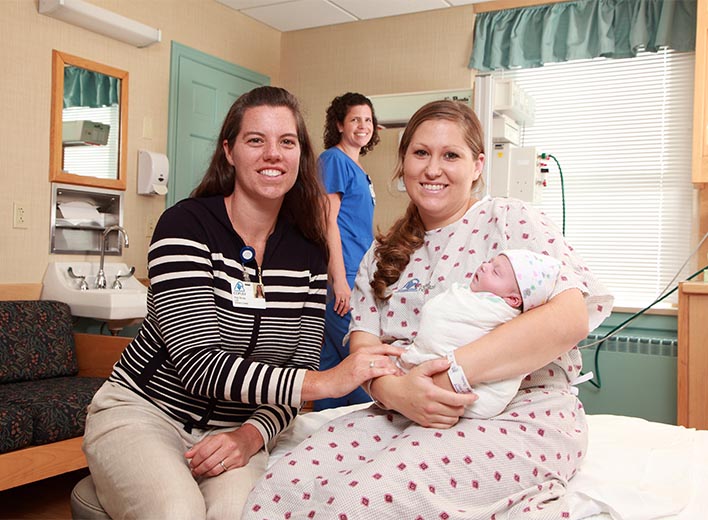 History Questionnaire
Please download and complete the questionnaire below that applies to your visit. You can:
It is helpful to receive the completed form at least one week prior to your visit. Having this important information ahead of your visit allows you to spend more time with your provider.
Are you expecting a baby? You probably have questions.
This form asks you a number of questions on topics related to your feelings, behaviors, and other challenges you may be facing that play a role in your well-being. Please tell your medical assistant or ask our staff if you think of anything else important you'd like to share. We have the people and resources to help. Complete the form that applies to your visit ahead of time and email, fax or mail (information above under History Questionnaire).
Women's Center Pregnancy Resources
Are you expecting a baby and have questions?

The Women's Center at Copley has created an online resource center to help expectant patients navigate their pregnancy. With content curated by our midwives and nurses, these resources offer guidance on:
Breastfeeding/chestfeeding nutrition, and postpartum care
Caring for illness during pregnancy
Helping children prepare for a new baby in the family
How your body changes and how to help
Resources for each trimester of your pregnancy
Postpartum discharge education
Why Colleen Twomey chose Copley
When Your Choice of Birth Control Causes Problems
Long Term Birth Control Options
Choosing the Right Birth Control for You